Welcome
Hi! I'm Margaret Gallagher, known professionally as Maggie G. I choreograph line dances and teach at classes in Coventry and at events, both nationally and internationally.
I am also well known for my Irish dancing and my dance troupes from Celtica Academy. Why not join me on a line dance weekend or holiday abroad? You will find links on this page to all my latest news, dances and events.

Line Dancing
My many dances cover a wide range of styles and dance levels from absolute beginner to advanced. I often introduce a new dance at events. The scripts for all my dances are on this website. My latest dances are also noted here. I hope you enjoy them and have fun on the dance floor - to be sure, to be sure!!

Celtica Academy
My Celtica Irish dance troupes are trained in my Coventry-based Celtica Academy dance school and give enjoyment at dance events nationally and internationally. We support charity events when we can.
News
I hope you'll find the information of interest and I will endeavour to keep my website up to date with my News, including Latest Dances, Dance Scripts, Tour Dates, Dance Weekends, Dance Holidays, Photos and Videos.
Happy dancing!

Love, Maggie.
P.S. Don't forget to sign my Guest Book!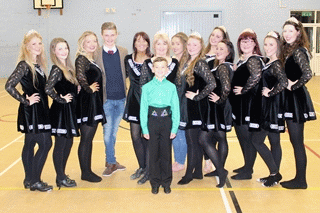 Latest News
We had a great day in Oxford raising a fantastic total of £3,300 for Lilacs Day Care Centre, Kidlington & the Alzheimer's Society. I choreographed "Take These Days" to the new Take That single These Days especially for the Oxford workshop and the Alzheimer's Society. The dance script and music are now available.
To Book Maggie
Please email your enquiry - see
Contact Us
page for details.