Welcome
Hi! I'm Margaret Gallagher, known professionally as Maggie G. I choreograph line dances and teach at classes in Coventry and at events, both nationally and internationally.
I am also well known for my Irish dancing and my dance troupes from Celtica Academy. Why not join me on a line dance weekend or holiday abroad? You will find links on this page to all my latest news, dances and events.

Line Dancing
My many dances cover a wide range of styles and dance levels from absolute beginner to advanced. I often introduce a new dance at events. The scripts for all my dances are on this website. I hope you enjoy them and have fun on the dance floor - to be sure, to be sure!!

Celtica Academy
My Celtica Irish dance troupes are trained in my Coventry-based Celtica Academy dance school and give enjoyment at dance events nationally and internationally. We support charity events when we can.
News
I hope you'll find the information of interest and I will endeavour to keep my website up to date. You can also find me on Facebook!
Bookings
If you would like to book me for your event, please email your enquiry - see Contact Us page for details.
Happy dancing!

Love, Maggie.

P.S. Don't forget to sign my Guest Book!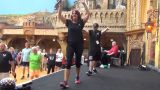 Latest News
What a fantastic weekend celebrating the CBA's 20th anniversary. A very big thank you to all the line dancers who attended or watched via the web and to Betty & all the Linedancer team for all their hard work in making it such a great celebration.
************
To help our mobile friends have a more user-friendly experience, we plan to refresh this website in February.

My latest dances are Up In Flames (Advanced), We Wanna Dance (Intermediate), Mountains To The Sea (Beginner) and Gerry's Reel (Improver). I hope you all enjoy them.
************
Due to some cancellations we now have availability for my Experience weekend in Southport on 11-14 March. We are at the fabulous Prince of Wales hotel in Lord Street, with guest choreographers Rob Fowler & Rep Ghazali. My Irish dancers, Celtica, will also be performing on Saturday evening.

The Southport event is a great fun weekend with our awesome DJ, Big Dave, playing all your requests throughout the weekend. Do get in touch if you are interested in joining us.

My Folkestone event in September is a small and cosy event for just 60 dancers with Big Dave and I. My Coventry Home Game event in November has guest choreographer Roy Hadisubroto! So roll up for some awesome and classic Maggie G Experiences - but please don't forget to BOOK EARLY to avoid disappointment! :-)