Coventry 2017
I had a brilliant weekend of fun and friendship at my Home Game event in Coventry, with my great friends Dave and Pauline Baycroft. We had a special star guest this year all the way from Australia, the one and only Simon Ward! Tim Johnson, with whom I choreographed Strip That Down, also popped in on Friday evening and for the Saturday Workshop.

Our Saturday night theme was of course "Down Under"! There were so many fantastic costumes - well done everybody!

I taught Tension, Dancing In The Daylight and my new Intermediate Hearts On Fire. Simon taught Hurts Like a Cha Cha, Equal Love, Story and Friends For Life. Tim taught his latest dance Call The Doc.

Thanks to everyone for your tremendous support, especially those who travelled from Austria, France, Germany, Netherlands, Norway and Switzerland. Thanks as always to Gwen for her help during the event and also to Dee Musk for her help with Dave's Early Bird sessions.

Some photos and videos of the event are on my public Facebook. More photos can be found in my Photo Album.
---
Majorca 2017
We had a great time linedancing in Majorca with about 70 dancers from Austria, France, Germany, Guernsey, Switzerland and UK. The hotel, the weather, the people and everything was wonderful. We linedanced so much that it was like a bootcamp! It was lovely meeting all the people new to our dance holidays - I'm pleased you all had a great time.

Many thanks to my guest choreographer and DJ, Jamie Barnfield, who did a fabulous job entertaining us. Many thanks also to our Club Dance Holidays host Anja who looked after us so well.

During the week, I taught all my latest dances, including Wandering Hearts, OpenYour Eyes, Cards On The Table, Save Me Tonight and Strip That Down. I also taught my new Intermediate Love So Soft, to a great track by Kelly Clarkson, and my new dance that I choreographed with Gary O'Reilly called Tension. Some video clips of my new dances are published on my Videos page and Facebook.

Jamie taught his latest dances including Shadow of Your Love, Body Moves, Come On Baby, Let It Swing, Spagna and Tequila Boom Boom.

Our party night theme was "Bad Taste" and the costumes were great. Well done Gwen and Moni! Some selected photos will be published in my Photo Album and on my Facebook soon.

I hope to see many of you again before not too long - and many of you in Cyprus!
---
Spain 2017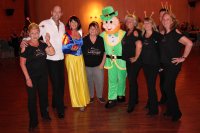 A massive thank you to everybody who came to my dance holiday week in Calpe, Spain. We had a fabulous time with about 100 dancers from Austria, England, France, Germany, Guernsey, Holland, Jersey, Norway, Scotland, Switzerland and Wales.

Thanks to everyone who supported this holiday, it was really great to see you all, especially those new to our dance holidays. I hope everyone enjoyed it as much as I did. It was lovely seeing you all mixing together so well - a true family gathering.

Many thanks to my great friend, choreographer and DJ Gary O'Reilly and to my other guest choreographer Raymond Sarlemijn. A special thanks also to Anja and Club Dance Holidays for all the holiday arrangements that worked so well.

All the dances we taught were well received. Dances I taught were Scared of the Dark, Promise Me, Stay My Love & Dream On. While in Calpe, Gary and I choreographed a new dance 'You Better Believe' to a track by Train. Gary taught this and, from the feedback received, it was one of the dance highlights of the week.

Gary also taught his recent dances Love on a Weekend, Light It Up and Love Remains, while Raymond taught (Sweat) A La La La La Long, Englishman in New York, Bae, Dance with the Devil and Love on Me.

Thanks to everyone who took part in the fancy dress parade. Markus made a very good Snow White! And well done to those who revised during the week for some of my Classic dances that were danced during the evening socials. (Some of my popular classic dances are listed at the end of the Events page.)

There are some video clips and selected photos of this holiday on my Facebook but more photos can be seen in my Spain 2017 and Spain 2017 Party Night Photo Albums. I look forward to seeing many of you again on our next dance holidays and weekend events, or while I am on tour in your country!
---
Southport 2017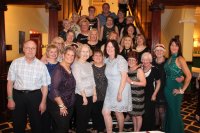 Straight after Mothers Day school assembly, my friend Ronnie & I headed off to Southport for my Experience weekend, but oh what a nightmare journey due to part of the M6 being closed, we finally arrived 10 hours later!

However, it was a fabulous weekend and I hope everyone enjoyed it as much as I did. Big thanks to Pauline and Dave, Neville, Julie, Dee and of course everyone who supported the weekend, it really was great to see you all. All the dances taught went down well; my dances taught were Scared of the Dark, Promise Me, Nancy Mulligan & Stay My Love.

Also a big thank you to Celtica Academy who performed a brilliant show and to my 3 boys, who made John & I so proud, watching them dance with Celtica and playing their musical instruments. There are some video clips on my Facebook and the photos can be seen in my Southport Photo Album.
---
Port Talbot, Wales 2017
We had a fantastic Maggie G Experience Weekend in Port Talbot, Wales, with Pauline, Dave and my guest choreographer Gary O'Reilly. It was great to see everybody. It was brilliant and we had so much fun at the gambling tables playing Pontoon and Roulette in Las Vegas! Thank you all for coming.

In our workshops, I taught my new Intermediate dance Stay My Love and my new Improver dance Dream On, plus my CBA Intermediate dance Anywhere.

Gary and I co-choreographed a new Beginner dance Paddy's Choir, which Gary taught and will be released later. Gary also taught several of his latest dances including Love Remains, Crazy As Me and Love on the Weekend. During our early bird and late bird sessions, Big Dave taught Wants and Needs, Rachael's Pink Champagne and The Anthem. Thank you Gary and Dave.
---
Coventry 2016
Thank you to everyone supporting the Coventry Home Game weekend at the Royal Court Hotel. We had people from England, Germany, Norway, Austria, the Netherlands and France.

Thank you so much to Roy Hadisubruto and Fiona Murray for joining us this weekend and to Pauline and Dave for everything you do. Thank you also to Dee Musk for helping out during the weekend.

I taught my new waltz, Echoes of Love, Chantaje (co-choreographed with Gary O'Reilly), Hurts, Boomerang and Funky Love.

Thank you for watching the live videos and your nice comments!
---
Cyprus 2016
We made the most of the sunshine in Cyprus! It was a great week, full of fun and lots of dancing. Thank you to everyone supporting the holiday from England, Guernsey, Austria, Sweden, Switzerland and Germany and of course the mad Irish charmer himself, Gary O'Reilly.

While in Cyprus, Gary & I choreographed a new Intermediate dance Chantaje, which is to the song of the same name by Shakira. I also taught my new waltz, Echoes of Love, which was later released at my Coventry Home Game Experience weekend.
---
Spain 2016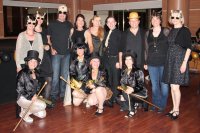 We've just had a fabulous week in Calpe, with lots of fun, friendship and sunshine. Many thanks to all who supported the holiday, I hope you all enjoyed it as much as I did. My special thanks also to my guest choreographers, Roy Verdonk and Gary O'Reilly, and to Anja and all the team at Club Dance Holidays.

It was great being back at the Diamante Beach Hotel in Calpe, a lovely venue right near the beach. Thanks Gary for being our excellent DJ.

During the holiday I taught Secret Love, I'll Be Alright, Stand By You, Just Let Me and Hey Boy Hey Girl. Roy taught Be Happy Now, Three Beers To Mexico, Digital Age and I Love Me. Gary taught Corazon Diamante, Bring On The Good Times, Boogaloo, Overloading, 2 Lane Highway and Just Have Faith.

We had dancers from Austria, France, Germany, Ireland, Norway, Sweden, Switzerland, Jersey and UK. I hope to see many of you again on future Club Dance Holidays, or on my forthcoming tours.
---
Southport 2016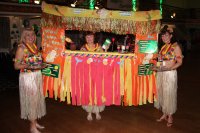 WOW! What a fantastic weekend in Southport! A very big thank you to Big Dave and Pauline for all their hard work, to Rob Fowler our special guest choreographer, to all the gang from my Coventry club and to everyone who came! Thank you so so much for your support, I hope you all enjoyed it as much as I did. It truly was an amazing weekend!

I taught my new dances I'll Be Alright (Intermediate) and Boogaloo (Beginner, co-written with Gary O'Reilly), together with Stand By You (Advanced) and Secret Love (Intermediate). Rob taught Teddy Bear's Picnic, Tangled Up, Jumpin' in the Morning, Hey Hey Hallelujah and Rum is the Reason. Dave also taught Take It Off, Lover Come Back and Mirror Mirror.

During Saturday evening my Celtica Academy gave a 2-part show which we all enjoyed performing, especially Sean - I was very proud!

As usual, the fancy dresses were excellent and we all had a ball! Finally, thanks to Gwen for all her help during the weekend.
---
Coventry 2015
On behalf of Dave, Pauline and myself, thank you so much to everyone who supported my Coventry Home Game. We had a fantastic time and the atmosphere was just so lovely, we had so much fun. As you can see from the photos in my Photo Album, the fancy dress costumes were brilliant!!

Thank you also to my lovely guest choreographer Daniel Trepat. I hope you enjoyed his teaches along with my new dances too. I was overwhelmingly surprised when Daniel presented me with my Best International Dance Teacher of 2014 award from the German Star Awards. Thank you again to everyone who voted for me.

My youngest son, Padraig, aged 5, made his Irish dancing debut and danced with his brothers Sean and Gerard. Mummy was so so proud of my gorgeous boys, as was Daddy.

We will be back at the Royal Court Hotel on 25-27 November next year, with the lovely Roy Hadisubroto, who some of you have had the pleasure of meeting in Portugal earlier this year. Booking details are on the Events page.
---
Portugal 2015
We had a great time on my line dance holiday in Portugal with my guest choreographer Roy Hadisubroto, a world champion megastar. It was good to see familiar faces and to welcome new ones.

During the week, I taught my two brand new dances - Greater Than Me and Roads. I also taught my other recent dances - Tribal Heartbeat, Simply the One, Here's To Us, Don't Dance Alone and The Galway Gathering.

Roy taught his dances Promise, Obsesion, Angel and Party Time, which were fun to learn with some great styling. He gave us a superb Showtime demo on our Party night, which left me in quite a spin - literally!! Thanks Roy for helping to make such a fun week. One of our Norwegian dancers, Berit Johannessen, also taught us her dance Spirit.

My thanks go to Dave "The Rave" Blake our DJ, who did such a splendid job with all our dance requests and to Gwen my valued helper who, amongst other things, decorated our party night tables so well. Anja, our Club Dance Holidays tour host, did an excellent job as always looking after all our travel and hotel arrangements, which was much appreciated.
---
Event Report Archive
Event Reports for some previous Maggie G Experience line dance events, weekends and holidays are available in the Event Report Archive.
---
Photo and Video Memories
I have lots of happy dancing memories from past events and holidays.
For pictures taken during Maggie G holidays and events, please see my Photo Album. In the Photo Gallery section, there is also a selection of pictures that were taken during my tours in the UK and abroad.
For videos of me at events demonstrating or performing my dances, please see my Videos Page.